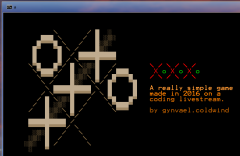 Temat: Pierwsze 15 minut na szybko opowiem o zadaniu momo z 0ctf (rozwiązanym przeze mnie i
j00ru
) - było to RE3 (odpowiednik RE 150?), które, jak się okazało na końcu, było bardzo zbugowane. A potem próba dokończenia XOXOXO część 4. Ostatnio udało się dokończyć wstępną implementację klienta TCP w C++ i napisać uproszczony parser plików xp (patrz:
REXPaint
), a także jeden taki przykładowy zrobić (ten po prawej był stworzony po livestreamie) i wyświetlić na konsoli (łącznie ze stworzeniem on-the-fly palety kolorów i
przestawieniem palety w konsoli
). Tym razem będzie więcej zabawy z buforami konsoli i próba podpięcia ładniejszej (jakiejkolwiek) grafiki do stworzonego wcześniej klienta C++. Stream odbędzie się
ponownie na YT
- jak tylko stream będzie online, to link do niego pojawi się na podlinkowanym kanale.
UPDATE:
Link do streamu:
https://www.youtube.com/watch?v=SaUMQp2VWgg