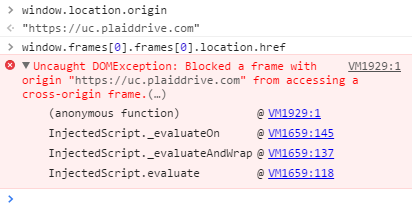 Wczoraj podczas livestreamu m.in. pokazywałem jak rozwiązywało się zadanie plaiddrive (WEB450) z PlaidCTF 2016, i jak to zwykle bywa podczas demo ciekawszych rzeczy,
coś nie zadziałało
. Konkretniej, w kluczowym momencie chciałem pokazać, że można przejść po ramkach obiektu window niezależnie od originu przebywanych ramek, aż do ramki z tym samym originem; a następnie dostać się do jej treści - i zamiast dostępu do location/document dostałem widoczny wyżej wyjątek, że originy się nie zgadzają. Stwierdziłem wtedy, że pewnie robię jakiś głupi błąd - i w rzeczywistości tak było ;)
Problem sprowadza się do atrybutu
sandbox
nadanemu przez skrypt plaiddrive wewnętrznemu iframe'owi:
Jak możemy
zobaczyć na MDN
, jedną ze "złagodzeń" polityki sandboxa jest
allow-same-origin
:
Allows the content to be treated as being from its normal origin. If this keyword is not used, the embedded content is treated as being from a unique origin.
Co znaczy mniej więcej tyle, że bez tego słowa kluczowego użytego przy definiowaniu polityki sandboxa, okno wewnątrz iframe'a będzie miało unikatowy (różny od wszystkich innych) origin, niezależnie od tego, jaki powinien mieć naprawdę. A więc origin
https://uc.plaiddrive.com:443
nie pozwalał na dostęp do location/document obiektu okna ze wskazanego iframe'a, ponieważ oba były w różnych originach.
A dlaczego mój exploit zadziałał podczas CTFa?
Różnica polegała na tym, że podczas livestream próbowałem dostać się do zawartości pliku HTML, a skrypt plaiddrive przy iframe'owaniu plików HTML dodawał atrybut sandbox. Flaga natomiast była w pliku TXT (tj. z rozszerzeniem .txt) - ten typ plików nie miał atrybutu sandbox przy iframe'ie, więc window.frames[0].frames[0].location.href (itp.) jak najbardziej działało.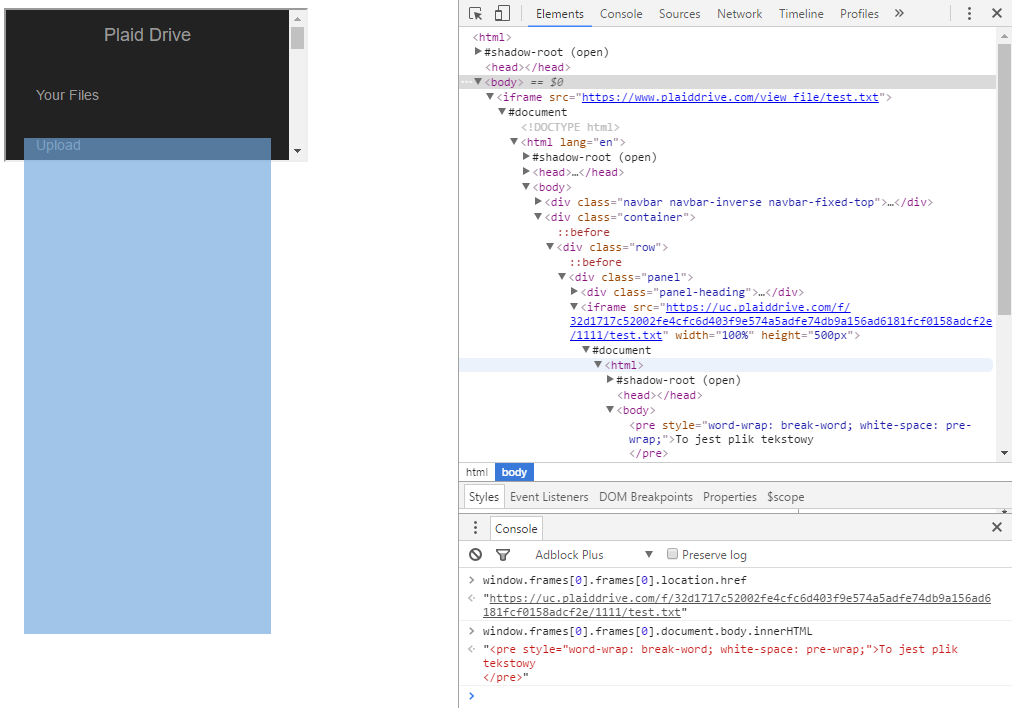 I tyle ;)