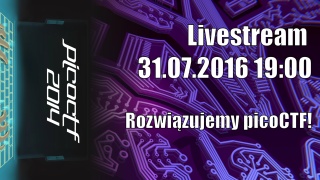 Cześć! Następny stream odbędzie się pojutrze (w niedziele) wieczorem - tematem będzie picoCTF. A potem będą dwa tygodnie przerwy (Black Hat / DEF CON CTF) i wracamy do OSDev.
Livestream PL: 31.07 19:00 na gynvael.coldwind.pl/live. Temat został zaproponowany przez jednego z widzów i będzie nim rozwiązywanie zadań z przeszłych picoCTFów (zadań, których nie widziałem na oczy). Dodam, że picoCTFy są to raczej entry-level - są skierowane do uczniów szkół średnich. Więc jak nic mi się nie uda rozwiązać, to będzie mi wstyd ;)
Nagranie z drugiej części rozwiązywania CrackMeZ3S (po angielsku) jest już dostępne: https://www.youtube.com/watch?v=5THPQ_aLwbI.
I chyba tyle - do zobaczenia w niedziele :)
P.S. Ah, dodam, że pod koniec sierpnia szykuje się podwójny (tj. dwóch streamerów) 24-godzinny stream, podczas którego będziemy z Xa (Sebastianem Rosikiem, autorem książki "
HTML5 Komponenty
") tworzyć jakąś prostą grę multiplayer (w trybie "compo 24h" - should be fun). Będzie przy okazji trochę promocji w różnych miejscach - ale o szczegóły podamy jak zostaną wyryte w kamieniu ;)
P.S.2. Hmmm, jakiś pomysł jakiego typu grę multi można w 24h napisać (server w C++/Python, client w JS/HTML/etc)?