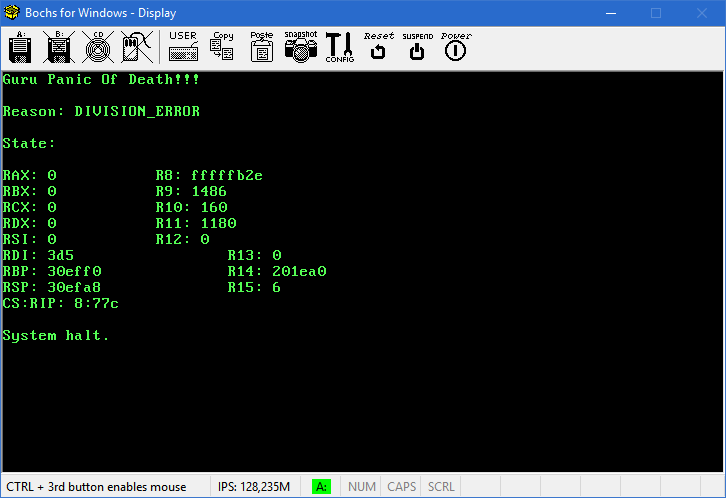 Wczoraj podczas livestreamu (
OSDev #8
) spontanicznie powstał pomysł na konkurs na zrobienie jak najładniejszego "blue screena śmierci" do systemu tworzonego podczas livestreamów (zwanego "Guru Panic of Death" w tym wypadku). Tj. celem konkursu jest takie przerobienie kodu obecnego jądra, by ekran wyświetlany w momencie krytycznego błędu w systemie był jak najładniejszy wizualnie. Zdaje sobie oczywiście sprawę, że to dość subiektywna sprawa, niemniej jednak zastrzegam możliwość wyboru rozwiązania, które mi osobiście się najbardziej podoba (tj. oceniał będę wedle tylko mi znanych kryteriów).
Główną nagrodą będzie giftcard na amazon.co.uk o wartości 50 GBP (jeśli będzie dużo dobrych technicznie i wizualnie prac jest całkiem prawdopodobne, że giftcardów znajdzie się kilka).
Zgłoszenia, w formie patchy LUB plików źródłowych do podmiany LUB pull requestów ORAZ OBOWIĄZKOWO screenshotów należy wysłać do 23:59 CEST (tj. letniego czasu polskiego) dnia 10.06.2017 na mój e-mail (gynvael@coldwind.pl) lub githuba (w przypadku PR; patrz niżej). Potwierdzał odbiór będę w ciągu 24h (w przypadku PR nie będę - na githubie od razu widać czy dotarło); gdybym nie potwierdził w tym terminie spytajcie mnie innym kanałem komunikacyjnym czy na pewno otrzymałem zgłoszenie.
Obecny kod można znaleźć pod poniższym linkiem:
https://github.com/gynvael/stream/tree/master/042-osdev-08
Zasad za dużo nie ma - w sumie są dwie główne:
- testował będę na Bochs'ie (tj. zgłoszenie musi działać pod tym emulatorem)
- celem jest modyfikacja tego 'systemu operacyjnego', a nie Bochs'a :)
Powodzenia! :)