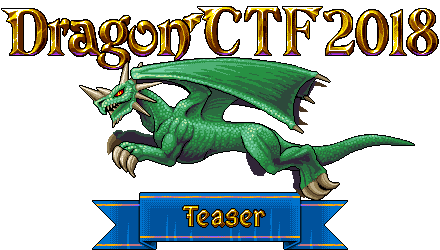 The
Teaser Dragon CTF 2018
by
Dragon Sector
starts tomorrow at 12pm UTC!
The tournament will be held in a pretty standard jeopardy format, i.e. it's a team-based CTF with dynamic scoring, and several tasks that may be in one of the typical categories (web security, reverse engineering, cryptography, pwnables, etc). As it's a teaser CTF, the number of tasks will be pretty low and the CTF itself will only go for 24h.
There are
prizes
related to the main CTF event as well! The main Dragon CTF will take place during the
Security PWNing Conference
on 19-20 November in Warsaw, Poland, and will be open to conference participants and invited top teams from the teaser, and will have it's own set of prizes - the total prize pool for the main Dragon CTF is 17000 PLN!
The registration for the Teaser Dragon CTF 2018 is not yet open (it will be a few hours before the CTF). I'll update this post with details once we have the website online ;)UPDATE: The registration is now open - https://ctf.dragonsector.pl/ - and the CTF starts at 12pm UTC (2pm CEST) :)
Best of luck!
UPDATE 2:
The CTF is now over! Good Game everyone!
Source code + a short description of intended solutions for my two tasks:
1.
Brutal Oldskull
(RE|easy, 68 solves)
•
(CTFTime.org write-up repository)
2.
Chains of Trust
(RE|hard, 10 solves)
•
write-up by akrasuski1
(team p4)
•
write-up by daniellimws
•
(CTFTime.org write-up repository)
See you at the main CTF*!
* Please note that the "Teaser" was not a "Qualifier" - the Main offline CTF is open to all
Security PWNing Conference
attendees that are onsite.