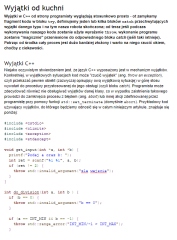 W okolicach lata 2014 zainspirowany zadaniem CTFowym
membership
z kwalifikacji na koreański
Codegate 2014
, stworzyłem artykuł opisujący jak działają wyjątki w C++ "pod linuxem", czyli w GCC/GNU libc/GNU libstdc++. A jest to mechanizm bardzo ciekawy, bo znaleźć w nim można np. maszynę wirtualną, która realizuje pewien specyficzny kod bajtowy w momencie rzucenia wyjątku.
W każdym razie artykuł został opublikowany a magazynie Programista, ale zapomniałem go wrzucić potem na swojego bloga. Czas więc to nadrobić:
•
Artykuł na Google Docs
(w menu File jest opcja do pobrania w PDF i innych formatach)
•
Cały numer Programisty z tym artykułem
(w formie EPUB, wymaga zapisania na newsletter)
Dodam tylko, że wersja artykułu z pierwszego linka może zawierać drobne literówki - jest to wersja po głównej korekcie, ale przed składem i drugą korektą.
P.S. Podziękowania dla
j00ru
i
KrzaQ
za techniczne review artykułu, oraz Tomasza Łopuszańskiego z redakcji
Programisty
za korektę.
P.P.S. Artykuł powinien chyba nazywać się "Wyjątki u krasnoludów i elfów", bo... no wiecie, DWARF, ELF...