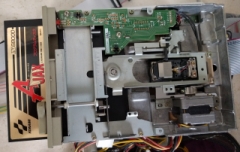 Garść newsów:
Najbliższy Livestream odbędzie się w piątek (03.06) o 19:00 (na http://gynvael.coldwind.pl/live) - będzie to kolejny OSDev, w którym (o ile nic się nie posypie) będę się starał załadować Hello WorldKernel napisany w C do pamięci i uruchomić, rozprawiając się wcześniej z A20. Jeśli chodzi o problem z tablicą stron, to pewnie widzieliście już poprzedni post + komentarze pod nim; TL;DR: dwie opcje w bochsrc były źle ustawione (cpuid i model).
Wczoraj wrzuciłem semi-krótkie video z typowymi newsami o których opowiadam na livestreamie, tak, aby zaoszczędzić czasu w piątek. W video są stare stacje dyskietek, stare komputery, świeże CTFy i zadania z tychże.
W przyszłym tygodniu na Livestreamie powtórzę swoją prelekcję z KrakWhiteHat pt. "Wstęp do RE" (wersja 1.1 - trochę slajdy chce poprawić jeszcze, dodać jakieś dema, etc) - serdecznie zapraszam.
I tyle.