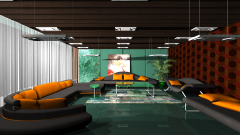 Recently on my Polish livestreams I've been writing a somewhat simple raytracer (see screenshot on the right;
source code
;
test scene by ufukufuk
), with the intention of talking a bit on optimization, multithreading, distributed rendering, etc. As expected, there were a multitude of bugs on the way,
some
more
visual
than others. My favorite one so far was a mysterious buffer overflow resulting with a C++ exception being thrown when rendering in 4K UHD (3840x2160) but not in 1080p (1920x1080). While trying to find the root cause I also run into a standard C library bug with the
sqrt
function (though it turned out not to be related in the end), which made the run even more entertaining.
Read more...